Current Houston Market Indicators:
•Home sales fell for the 2nd straight month.
•Sales are down by 10.5% compared to this time last year.
•Luxury home prices have decreased by 7% (Nov. 2015).
•Inventory has increased from a 2.7 months' supply to a 3.6 months' supply.
•Layoffs continue at major oil companies.
Oil company layoffs, a stronger dollar (bad for exports), and raising rates may scare off potential home buyers.  The Houston real estate market is headed into a downturn.  The question is will it get worse?
The Woodlands
We will not see a nosedive in all Houston areas, but in The Woodlands a slow down is happening.  The average number of days houses sit on the market has increased from 35 in May to a whopping 83 in December, proving that it is taking most home owners longer to sell in The Woodlands.  The months' supply of inventory is way up too, all the way to 7.5 months in November.  Statistics like this point towards a buyers' market, and sellers should prepare to lower their expectations, and consider budgeting for very aggressive offers from buyers.
The Woodlands Average DOM & Months Supply of Inventory Dec (2015)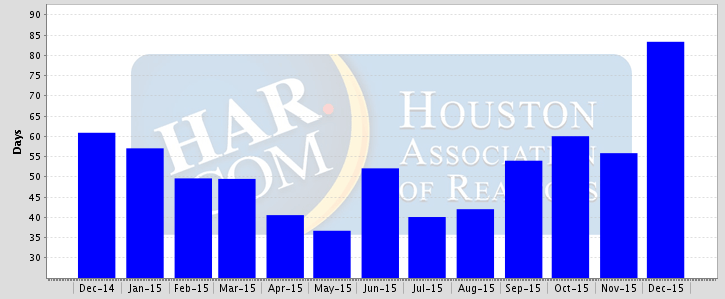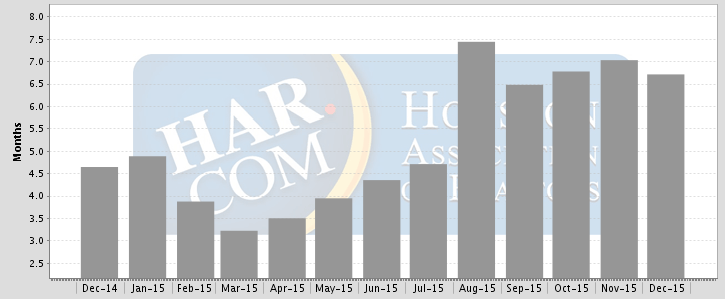 Spring Texas
In Spring TX, prices are falling slightly.  The median sold price is down by 6% from last year: $209,104 in Dec 2014 to the present$197,108.  The months' supply of inventory is up to 3.75 months, meaning that it is still a sellers' market in Spring.
Spring, Texas Median Sold Price & Months Supply of Inventory Dec (2015)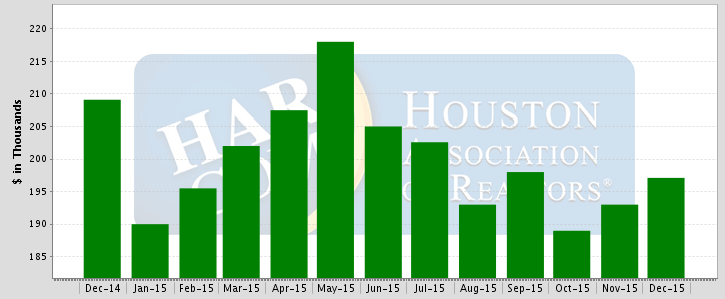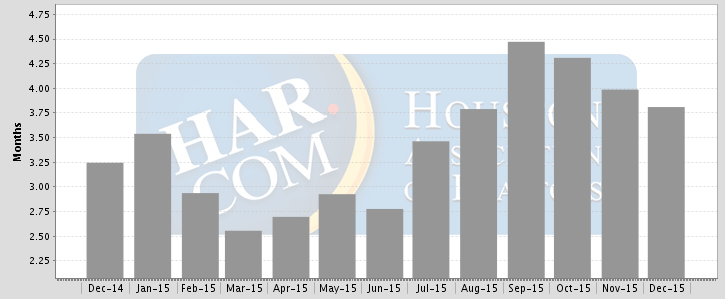 Buyers on the fence should buy now while there's plenty of inventory and rates are still low.  Position yourself with aggressive offers, and expect counter offers because sellers are still adjusting to the news that their homes aren't worth as much as they were just last summer.
Sellers should prepare for a fierce spring/summer market.  Homes that didn't sell in the winter, plus new spring/summer inventory should push prices even lower.  Wait-and-see buyers who are concerned about gas prices may sit out the market until things stabilize.  Home staging and correct market positioning is going to be extremely important.  Sellers have to make sure they are the best deal on the block.
In The News
Albeit at a slower pace, more new residents, homes and developments are expected throughout The Woodlands area and Montgomery County in 2016. Montgomery County was named the seventh fastest growing county in the U.S., according to census data released in 2015.
Oil prices dropped again… extending 2016's unbroken losing streak and worsening a bust in Houston's key industry that is shaping up as the most severe in almost half a century.
The Houston market is expected to go into down turn in 2016 according to James Gaines, Chief Economist with Texas A&M Real Estate Center. "I think the housing market will slow down a bit in 2016. It's not going to fall off a cliff, though," comments Gaines.
BP PLC (NYSE: BP) plans to cut about 4,000 jobs by the end of 2017, the Associated Press reports.
Reserve chair Janet Yellen went on to note that increases would be incremental and spread over time, but also would remain low for the foreseeable future. The admission, though, that the Fed needed some wiggle room is troubling.
Buying a home?
We'll help you estimate how much you may be able to borrow.